In the Production Order View, the production orders are displayed categorized by their status.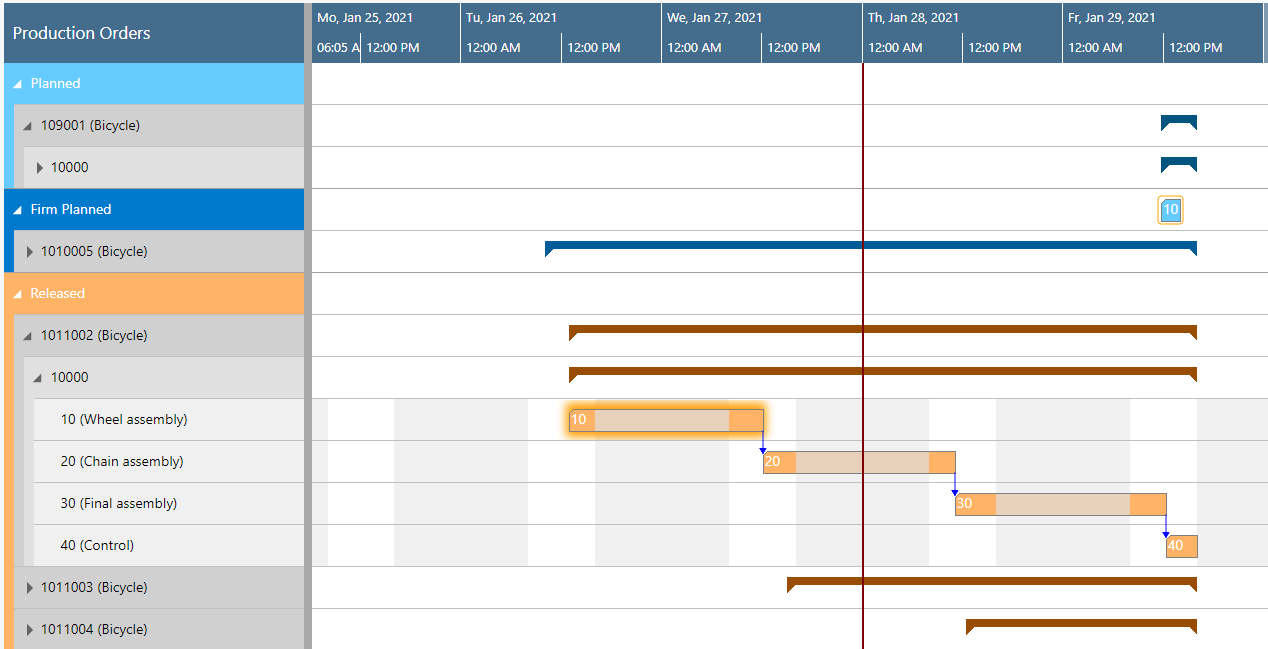 The elements of the Production Order View in detail
Bars
Each operation of a Production Order is represented by a bar the color of which depending of the order's category during work times and a few shadings brighter during non-working times (also see below "Calendar").
The following information can be gathered from optical indicators:
Currently marked operation:

Operation changed but not saved yet


Categories
The colors of the bars depend on the status the production order is categorized by since the categories are indicated by different colors:

Calendar
A calendar in the background of the Gantt chart shows non-working times in grey, working times in white. By clicking the according menu items, non-working periods can either be hidden or shown.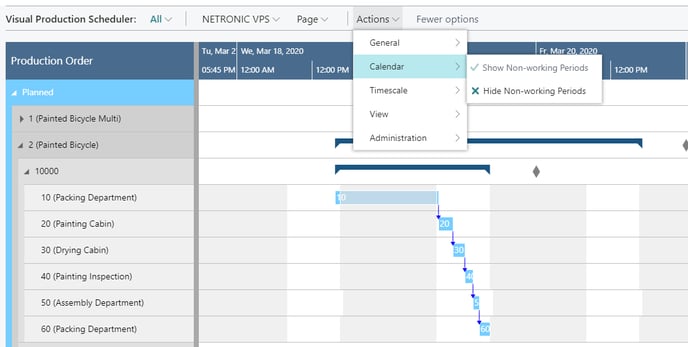 Progress
Based on the settings you have specified in the "Setup" dialog, you can display a progress bar for production order routing lines of released production orders, the color of the progress bar depending on the routing status and the percentage of completion:

Status "none", "planned", "in progress":

Progress by quantity / by time < 100% : grey

Progress by quantity / by time (i.e. you have posted more than initially planned) > 100%: red

Links
Links are shown after having clicked the desired production order or production order line as described below:
between operations of one production order line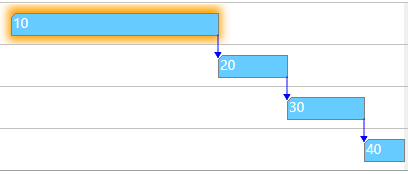 between production order lines (make-to order) are shown if you have ticked the according option in the "Setup" dialog

between Production orders

Workdate
A vertical line in the chart indicates the workdate as having been set in Dynamics 365 Business Central.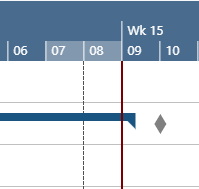 Due date
The due date of a production order is represented in the VPS by a diamond-shaped symbol, turning red, when the due date is exceeded.

Update line
The update line indicates the time when your plan was last updated.