The Resource View
The Resource View shows resource groups and their respective resources thus visualizing capacity bottlenecks and date conflicts

Elements and symbols in the Resource View
Calendar
A calendar in the background of the Gantt chart shows weekends in grey, working times in white.
Bars
Each job task is represented by a bar, the color of the job planning line bars depending on the job's category. The Job categories are indicated as follows: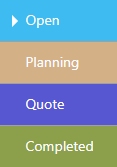 A red frame indicates changes having not been saved yet, the orange frame highlights the currently marked task.
Sorting order
Within a resource group, resources are sorted in ascending alphabetical order.
Capacity curve
In the VJS, you can show a capacity curve in the Resource View to see free and exceeded capacities, a red box indicating an overload: