Service orders and resources can easily be scheduled and rescheduled interactively by drag & drop
Allocate Service Item Lines to resources
In the VSS, resource allocation is done by moving Service Item Lines from the 'not yet allocated' area to the service schedule - either from the service order backlog on the right to the service schedule or from the lower to the upper Gantt chart. Thus, new resource allocation entries are created.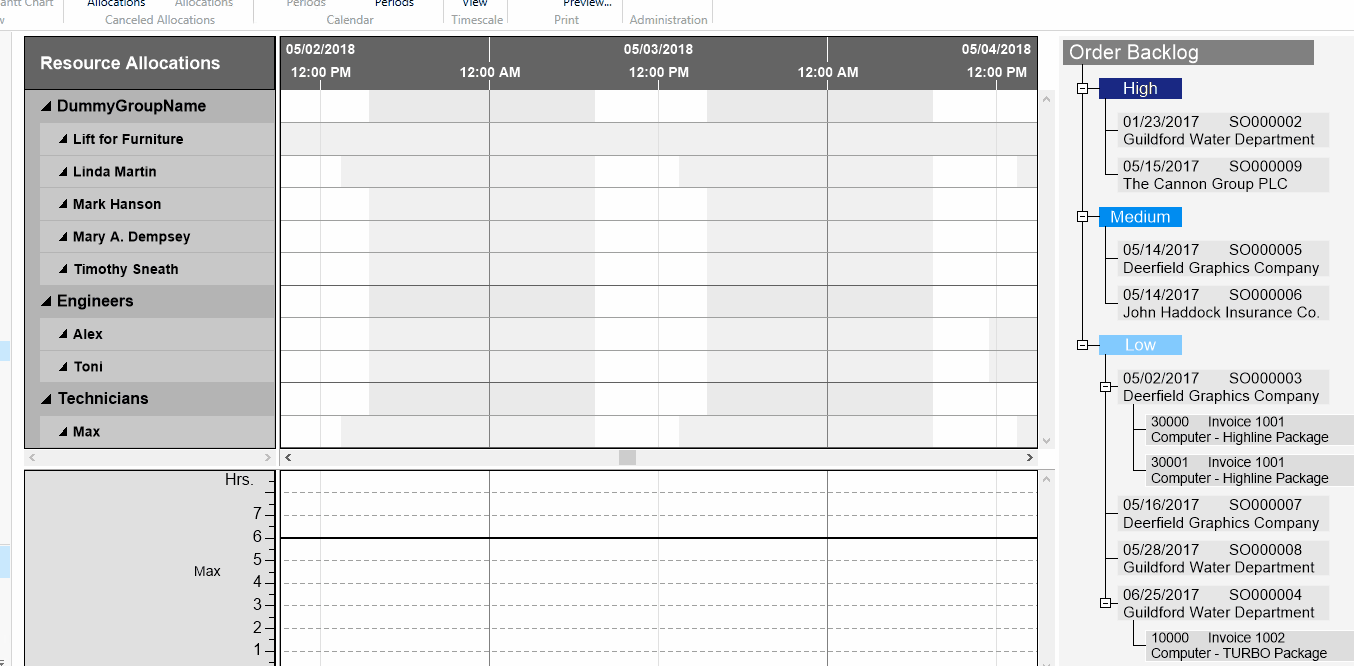 Allocate several Service Item Lines in one go
Keep the CTRL key depressed while clicking all the order's Service Item Lines that you want to allocate to the same resource and drag them to the desired resource.
Proceed as described when you want to move several Service Item Lines
from order backlog onto Gantt
from lower Gantt to upper Gantt
within the upper Gantt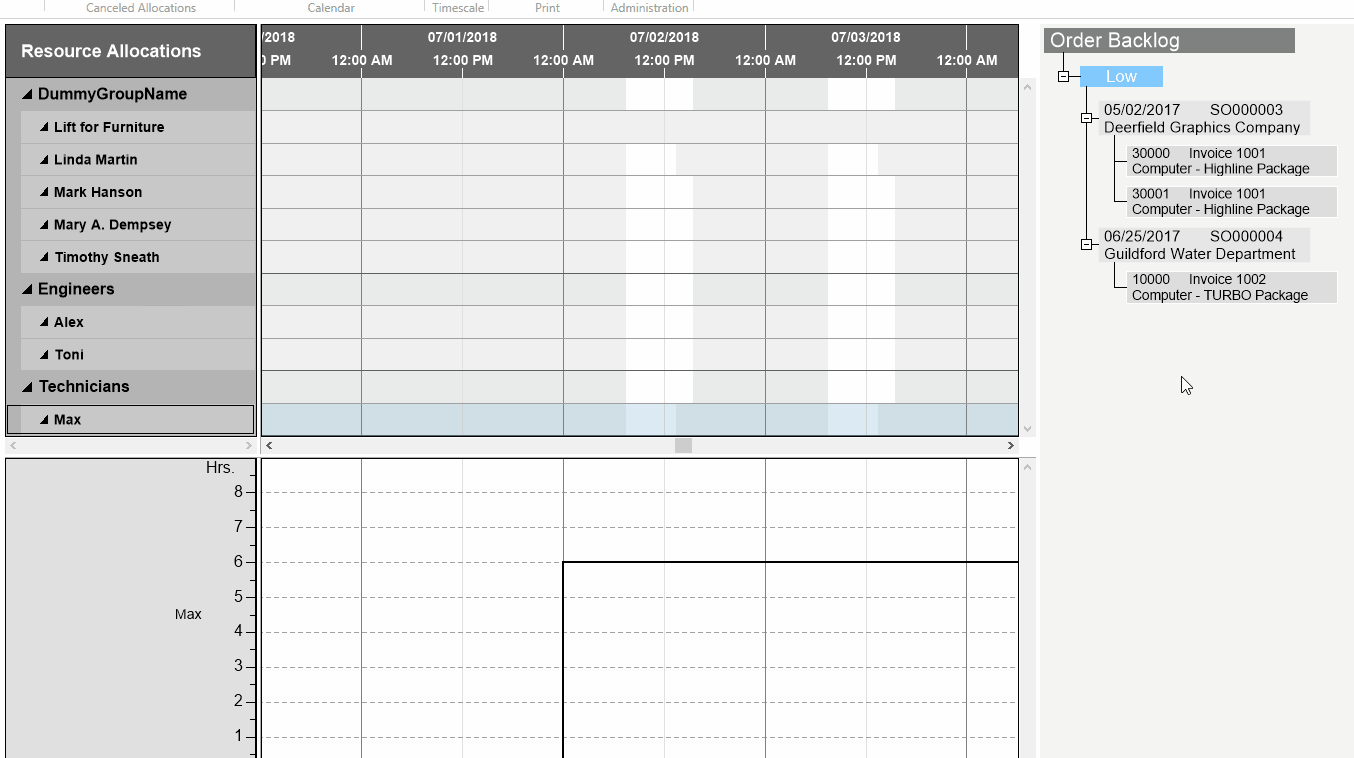 Reschedule service order allocations by drag & drop
To schedule a service order allocation, you can move it horizontally along the time scale in both views: as a consequence, the allocation will be worked off at a different time. While moving the operation, an info window shows detailed information.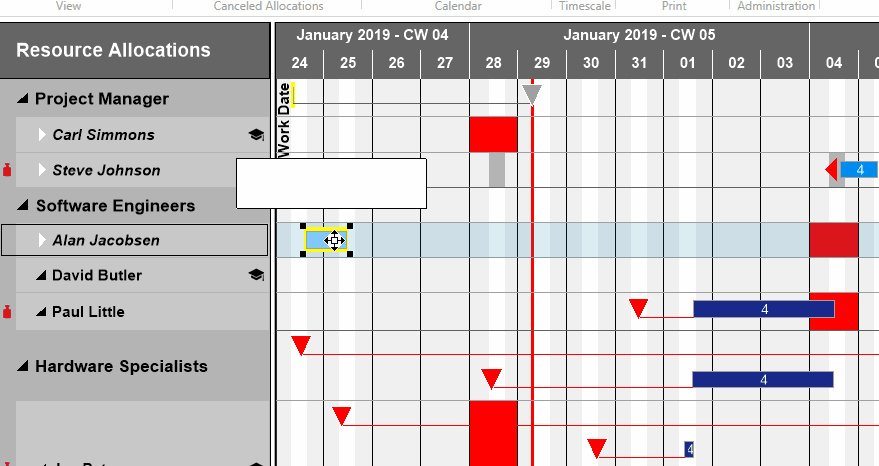 Assigning an operation to a different resource group or resource
In the Allocation Gantt chart, an allocation can also be moved vertically when scheduled – to a different resource or resource group. As a consequence, the allocation will be worked off by the resource or resource group it was moved to.
If you want to make sure that a resource can only be moved within its original resource group, activate the corresponding option in the "Setup" dialog.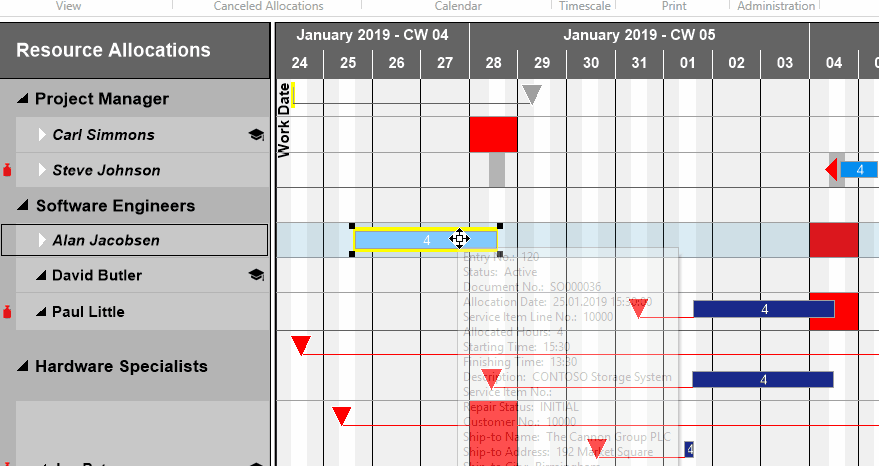 Some Notes on Drag&Drop
Service tasks that have not yet been planned are estimated at 4 hours by default. This default can be changed in the "Setup" dialog by the "Initially Allocated Service Hours" value.
The duration of tasks, can, however, always be modified after they were moved to the planning table interactively by extending or shortening the bar. Canceled allocations are entered with the (cumulated, if necessary) cancelation times.
From the Tree & Gantt Chart Point of View
Before dragging the service operation SO000009-10000 into the planning table


From the 2 Gantt Charts Point of View
Before: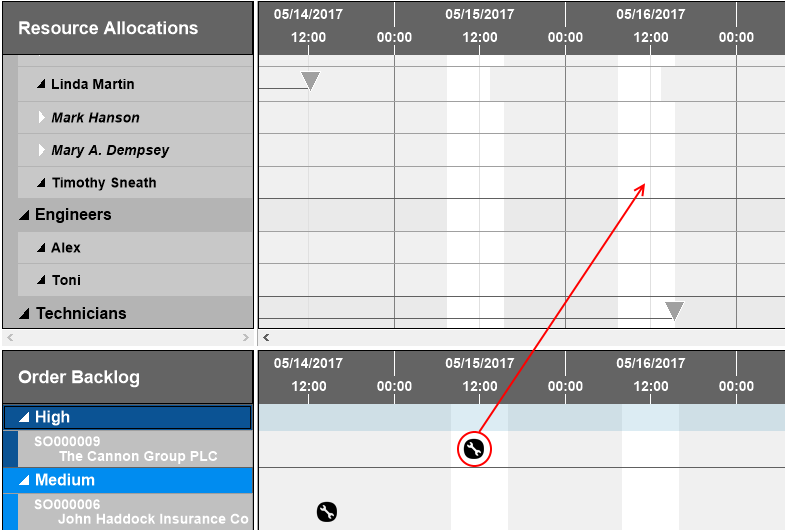 After: