Edit allocations by using the contex menu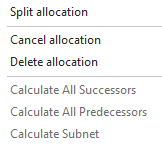 Right-clicking on a resource allocation in the diagram area will call the
context menu of the according allocation.
Split allocation
In compliance with the NAV standards, resource allocations are always stored only by the day, the duration being based on hours. For the sake of better overview and handling, however, adjacent allocations are always displayed as one single bar in the VSS. Such a resource allocation can always be splitted, amongst others to have the service tasks carried out by several staff members. Since the NAV standard only allows allocating a SIL (Service Item Line) to one single resource, the VSS duplicates the corresponding SIL when saving a split SOA (Service Order Allocation) and assigns a new line number.
Delete allocation
The SOA's corresponding bar will be deleted from the VSS planning table and the records will be removed from the related NAV table (T5950).
If there is no more (active or canceled) allocation to the underlying SIL any more, this SOA will appear in the unfilled orders again, based on the assumption that this SOA (as was the case when starting) is completely unplanned, meaning that no duration was estimated at all.
Cancel allocation
If a SOA is canceled by context menu, it will get the according cancelation identification and the SIL will be highlighted in the unfilled orders, showing the allocation duration that was used last in the form of cancelation hours.
If there have been cancelation records for the corresponding SIL before, the total number of canceled hours will cumulate.
Re-allocate
To show canceled allocations as hatched bars in the planning table, click the according button in the menu bar. Here too, connected partial allocations will be joined. There are two ways of re-allocating canceled allocations:
By simple drag&drop, i.e., by dragging the element form the unfilled orders to the planning table.
By (horizontally or vertically) shifting the cancelation bar or by changing its length.
If there are other cancelation bars that belong to this SIL, the number of hours of this cancelation element will decrease accordingly.
In both cases, the status of the SOA will change from "canceled" to "active".
Calculate
After a bar has been moved, it could be useful to recalculate its predecessor(s), successor(s) or its subnet. Click "Recalculate subnet" if you want to recalculate predecessor(s) and successor(s) in one step.