The VSS allows to visualize resource skills and preferred resources having been set in Nav
Specifiying resource skills and preferred resources help the planner to quickly and easily find the appropriate resource for a certain service item line.
Resource skills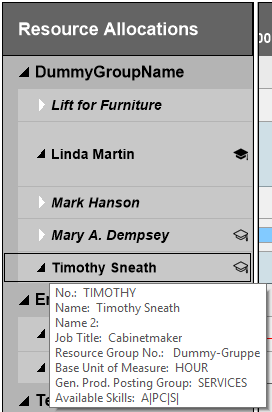 The VSS visualizes the skills that you have specified for your resources by showing academic caps next to the resources, appearing when you click a service item line:
A filled cap indicates that this specific resource has all skills
needed for this specific service item line,
An unfilled cap shows that the requirement for this service item
line are met in part only.
The skills can also be displayed in the tooltip.
Preferred resource

If you prefer certain resources for certain service items, you may as well connect them to the according items in NAV, thus effecting the resources to be highlighted in the VSS by an asterisk when clicking them.
Combination of skills and preferred resources

In most cases, the resource, indicated as preferred, also has the skills appropriate for the Service Item Line. In this example, the hat shows the dispatcher that staff member Linda has the required skills for the Service Item Line and that, since she is the preferred resource, the order should accordingly be allocated to her.