Situated above the diagram, the menu bar offers comprehensive functionality:

The meaning of the icons in detail:

Clicking the "Find Service Order" icon will open the according dialog. Enter the number of the service order you are looking for. The order will be highlighted in the order backlog and/or planning table (Allocation Gantt)


Switch views depending on which aspects of your data you want to emphasize

Show or hide elements needing reallocation (in the planning table, i.e. the Allocation Gantt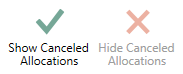 Show or hide work free periods

The resolution of the time scale is reduced/increased to display the whole time range of your orders as you have specified it in the "Setup" dialog

Print your chart as displayed on the screen and only specify the usual print settings like number of copies, pages to be printed, etc.print

Printing options, like paging, page numbers, recurrence of time scale, table and legend on printed pages can be specified in the "Page Setup" dialog that is to be reached from the "Print Preview" dialog.