Working with the schedule in the VJS
Set up the working area
Adjust the elements of your working area to your needs and planning situation
Adjusting the time scale
Increase/reduce time scale solution
Depending on how much detail or summary is required, you can either increase or reduce the time scale solution by
mouse wheel within the time scale
<Shift> + mouse wheel outside the time scale

Return to default time range
If you have modified the time scale solution and want to gain the overview back again, click the icon and the time range as having been defined in the "Setup" dialog will be completely shown again.

Enlarge/reduce diagram
Zoom the diagram in or out by <Ctrl> + mouse wheel.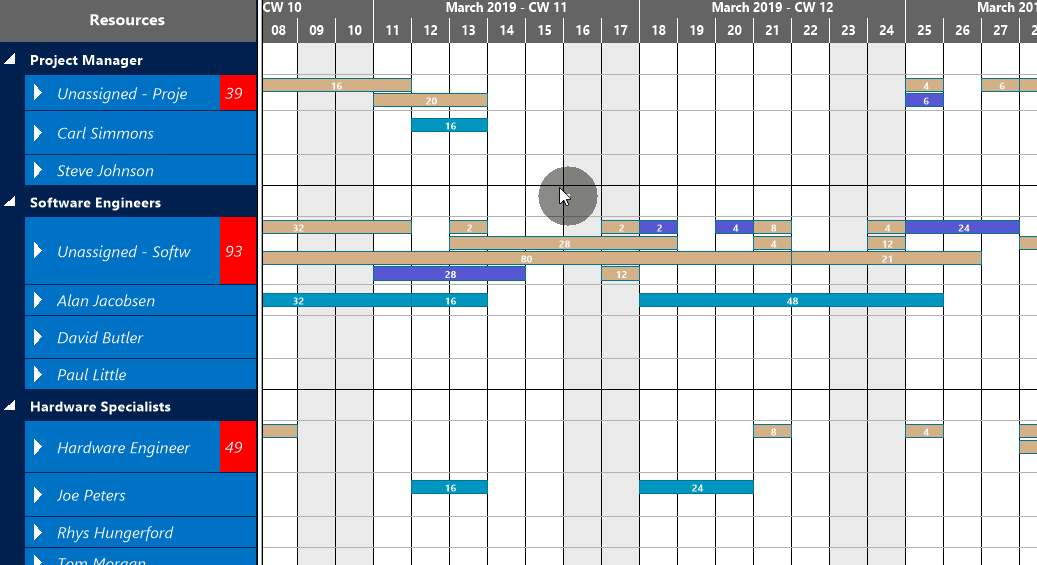 Adjusting the numeric scale of the histogram
If you wish to modify the resolution of the numeric scale in the histogram, place the mouse cursor on the numeric scale and drag it either upward (enlarging) or downward (reducing).

Adjusting the height of the histogram
Accordingly, you can modify the height of the histogram. Drag the horizontal splitter bar between histogram and table/diagram area upward or downward

Adjusting the width ratio between table and diagram
You can modify the width ratio between the table and the diagram by moving the vertical splitter bar between them.