What does the Availability View (color mode) show?
The Availability View helps you to focus on the material availabilty of your production orders.
The Availability View helps you to see which production orders have or don't have the needed material when the first operation is meant to start.
The Availability is useful to recognize the material availability of your production orders at a glance.
You can apply the Availability View in two ways:
On the "production simulations" page, you can choose it under "default view color type":

When you are in the visual schedule, you can select Actions --> View Color Mode --> Availability View: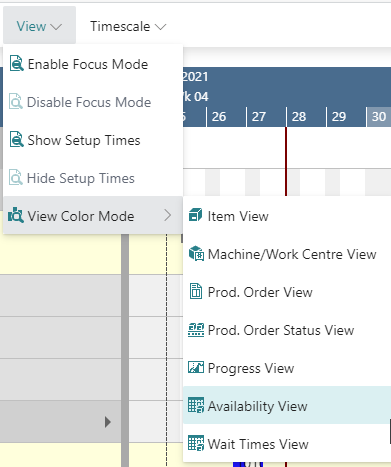 Important to know: the availiability color is applied to an entire production order (line).
The below screenshot shows a production schedule with the Availiability View applied. The default settings are:
production orders where the material is available = green
production orders that are scheduled before the required material is available = red

Change default colors
Of course, you can adjust the default colors that are used when you apply the Availability View to your individual needs This can be done in the according area in the "Color Setup":